Arizona Masters Swim Club 1St Place At Nationals
Arizona Masters won the regional team competition with 35 swimmers in the recent 2013 LCM Nationals in Mission Viejo. We won the overall by 100 points but squeaked by in the women's point total by 2 and in the men's by 1 point. There were numerous great swims; almost everyone came home with hardware. A few of the highlights were the amazing relays featuring 2012 Olympic finalist, Clarke Burckle, 25. He not only led three of the relays he swam to victory, he also clobbered his competition in the 50, 100, and 200 breast. Other 1st place finishers: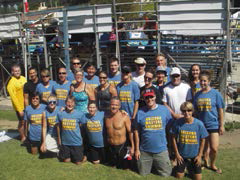 Brigid Bunch, 50, 200 IM and 200 Back
Paul Hafner, 53, 200 Free
Kurt Dickson, 46, 200, 400, 800, 1500 Free and 200 Back
Marc Valle, 39, 200 Fly
Austen Thompson, 23, 50, 100 Breast.
Congratulations, Arizona Masters Swimmers!